Misconceptions About Social Media Managers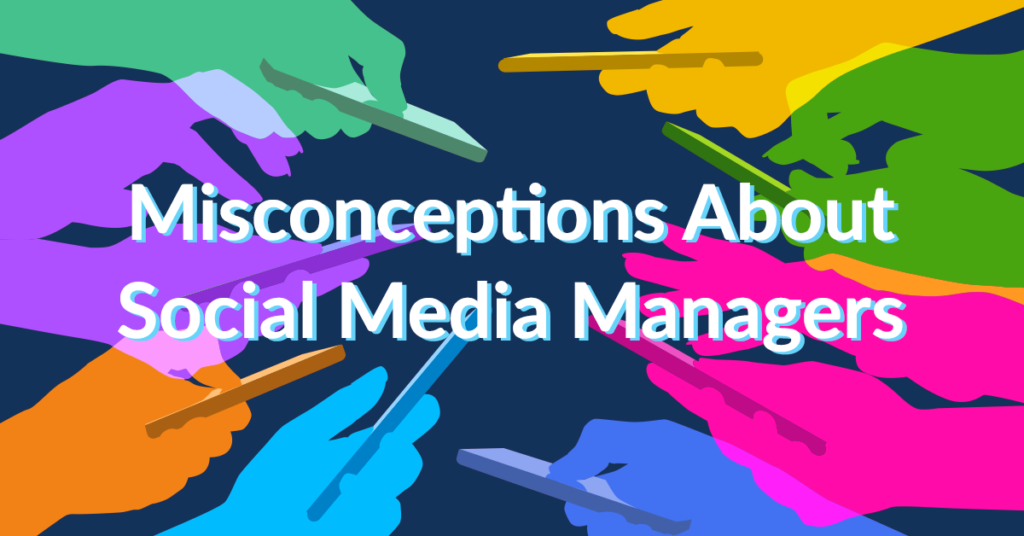 The Friday edition of Marketing Brew, a marketing-specific e-newsletter created by Morning Brew, featured an article about social media managers. It came as no surprise that the reputation of the job was previously underrated. "Social is not a career. It's a job along the way, but it's not going to lead you to the C-suite,' Dan Gingiss, who has led social teams at McDonald's, Discover, and more, said in 2019." Yes, you may have personal social accounts that you frequently post on, but running corporate accounts adds more layers of complexities to an already complicated space. There has been a shifting tide in the world of social where more and more creatives are getting credit where credit is due. As social continues to develop and expand what was previously possible, so does the perception of those tasked with managing the platforms.
Marketing Brew highlighted this shift with the example of Lia Haberman, who is the current CMO of Fit Body App. Her career started in journalism before pivoting into a social media role at Yahoo. This portion of the newsletter really caught my attention for a few reasons: very few people spell Lia that way, and my degree is from the UNC Hussman School of Media and Journalism. I felt like this was a sign for me to dive into this more. After thoroughly stalking Haberman via Linkedin, I felt inspired; she proves that career progressions in marketing are as ever-changing as the technology and platforms we work on every day. Starting at E! Online in 2002, Haberman was an associate news editor; she was tasked with writing, assigning and editing stories and handling coverage of New York events. In 2004, she made a move to Bauer, continuing her career as a News Editor. Then, she returned to E! Networks in 2005 as an Editorial Entertainment Director, where she "managed 12 team members for leading entertainment news and cable network website". She also "consulted on a range of NBC Universal digital properties including Daily Candy and the Style Network". It was after this role that she transitioned into the world of social as a Social Lead in Entertainment for Yahoo in 2012. For reference, Facebook had 845 million active users at the beginning of 2012 compared to the approximately 2.93 billion today; I'd say this was fabulous timing on her part to enter the growing field; it is evident Haberman understood the power of digital content in both written and visual formats. She decided to share this power, and since 2018, she has been an instructor and consultant with UCLA Extension in social media and influencer marketing.
So, what does a social media manager really do?
So, what does a social media manager really do? I think this is where a lot of the misconceptions lie because the job can be vastly different depending on the size of the company, as well as if it is an internal or external position. Many brands have their own in-house social media managers and corresponding content teams. Some smaller companies enlist the help of agencies to grow and run their social. Again, depending on the agency's size, one account manager could be planning or creating content for many of different brands. There are a lot of complicated, moving parts surrounding social like understanding the algorithms, keeping up with platform changes, strategy, messaging and tone, copywriting, content creation, graphic design, animation, short and long-form video creation, customer experience management, planning and analytics.
When asked about her thoughts on social media professionals, Haberman said:
"I actually think a social media manager's job is fairly diverse. [It's] just a matter of the rest of the world catching up and understanding exactly what goes into being a social media manager."
She added, "as an executive, trust me, your SMM [social media manager] is doing market research every day… among the long list of other amazing responsibilities they take on and the skills they're developing."
It is important to voice that social media is not just intern-level work. Starting my career as a social media strategy intern was incredible, and I am so grateful for that opportunity, but being young does not guarantee success. You have to set expectations that someone entering their career is probably not going to be able to immediately jump in, learn your brand, learn the ins and outs of your industry on the platforms, develop a strategy, create content and analyze post performance without the support and guidance of a content or social team. I attribute the success I had to my team teaching me everything I needed to know to understand the company I was representing and our goals. It can't be something that is an afterthought or doesn't have the proper resources devoted to it if you want to see significant results. If you are on the social media manager side of TikTok, like me, you will understand that the current consensus is that the "social team" is often more like a team of one.
My generation did grow up with social media, so it does feel very familiar. Still, there are new apps and different rules than when we were putting ridiculous status updates on Facebook or when Instagram was casual. I was not running brand accounts at 13 and trying to become an influencer, which is why current 13 to 16-year-olds will have an entirely different perspective than even I did. They grew up on Musical.ly, TikTok and the rise of short-form video; they had stories, AR filters and 10 photo or video carousel posts. The landscape is ever-changing, and the secret to success in this field is keeping up with all the moving pieces.
So, why invest in social?
Consumers expect your brand to have a digital presence
It is a way to control the brand representation of your product or service
Incredible amounts of people use these platforms every day, and you get access to them and their friends
I'm glad that social media is getting a more serious reputation in the marketing community because it is becoming increasingly important. It is not as easy as it may appear on the surface. There are so many reasons why I enjoy what I do, but the one that seems the most relevant recently is that I get to keep learning. There are so many platforms, technology, and skills needed to run branded accounts, which are transferable to other aspects of marketing.
More About The Author
Lia Esposito is a senior at the University of North Carolina at Chapel Hill pursuing a degree in Media and Journalism concentrating in Advertising and Public Relations with an English Minor. She is currently a social media strategist in the fintech industry.
---
---