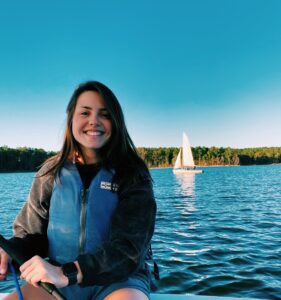 Get to Know Me
If I was to describe myself I would say I am an analytical creative. With an eye for design and the curiosity of someone who wants to know why, I am rooted in data and key metrics. I am a recent graduate of UNC-Chapel Hill. During my time at UNC, I studied advertising and public relations with a minor in English. Within this, I found a niche in strategic communication. I love learning, keeping up with trends and newsworthy topics, and honing my craft.
I am from Huntersville, North Carolina and I have lived in NC all my life. I have two Shih-Tzu Poodle mixes that keep me company. I love to get outside and try different activities like sailing, snowboarding, hiking, surfing, swimming, kayaking, etc. I am an avid sports fan; my teams are the Carolina Panthers, UNC Tar Heels, Charlotte Hornets, Charlotte FC and the Carolina Hurricanes. You also may find me at a local Checkers hockey game or Charlotte Knights baseball game.
Current Ventures
I am currently a brand coordinator for LendingTree, working on brand marketing, organic social, partnership activations and corporate communications. My day-to-day consists of brainstorming new initiatives, overseeing the creation of graphics and short-form video content, managing and analyzing the results of our organic initiatives, optimizing high-profile paid partnerships, influencer campaigns and consumer surveys. Prior to my full time role, I was a social media strategist with LendingTree, working on three acquired brands. After completing a 12-week internship program, I was converted to part-time contracting while completing my degree.
Before my time at LendingTree, I volunteered with nonprofits to build my professional portfolio working on projects relating to public relations, social media, and marketing. This opportunity allowed me to find my passions, work on my skill set, and give back to the community.These nonprofit organizations have various projects relating to my industry and allow me to build my professional portfolio.
I began my working life in the service industry as a swim instructor at a local aquatic center where I gave group and private swim lessons. I was then promoted to on deck management where I was a liaison between upper management, the swim instructors and parents. This experience gave me the opportunity to coach both a summer swim team and a year-round competitive team. For two summer seasons, I was a raft guide at the US National Whitewater Center. I led five whitewater trips daily of upwards of nine people with various intensity levels. My time as a competitive swimmer prepared me for this role because I learned how to be part of a team and excel at physical tasks. I was later promoted to give safety and informational talks before the start of the trips.