My Time as a Tar Heel
Relevant Course Work
In my time at UNC-Chapel Hill, I have had the privilege of taking a variety of hands-on, project based courses that have prepared me for my professional career. Some of the course I have taken include: Research for Advertising and Public Relations, Media Ethics, Writing and Reporting, Public Relations Writing, Case Studies in Public Relations, and Multimedia Composition. I have included samples of work I have done for various classes in order of most to least recent.
FALL 2020
For ENGL 318: Multimedia Composition and Design, I completed a series of projects that incorporated different design and genre conventions using multimodal elements. My first assignment was to create a literacy autobiography using Pinterest. We completed a digital review of an online tool and I chose to examine various COVID-19 Dashboards. For our final project, I made a video poem for Sonnet 73 by William Shakespeare using a collection of my videos and videos that I purchased the licensing for.
---
For MEJO 121: Intro to Digital Storytelling, we primarily worked on our digital story which can be found on its separate page. Before we began this project, we were assigned to create a short video to practice some of the film concepts we had learned in class.
SPRING 2020
For MEJO 141: Media Ethics, we were tasked with interviewing someone in the media and journalism industry and discuss an experience they had with ethics. I interviewed Emmy Award-winning journalist Erica Bryant. This was probably my favorite assignment I have completed in college because I grew up watching WSOC Channel 9 Eyewitness News and Bryant is an alumnus of UNC. She spoke of an ethical dilemma she had regarding a prominent news story about a public official that I remembered vividly.
Erica Bryant
---
For MEJO 137: Introduction to Advertising and Public Relations, we were tasked with creating an advertisement or graphic for a Duke campaign to convince students that were undecided about where they wanted to go to college and they had received an admissions offer from both UNC and Duke.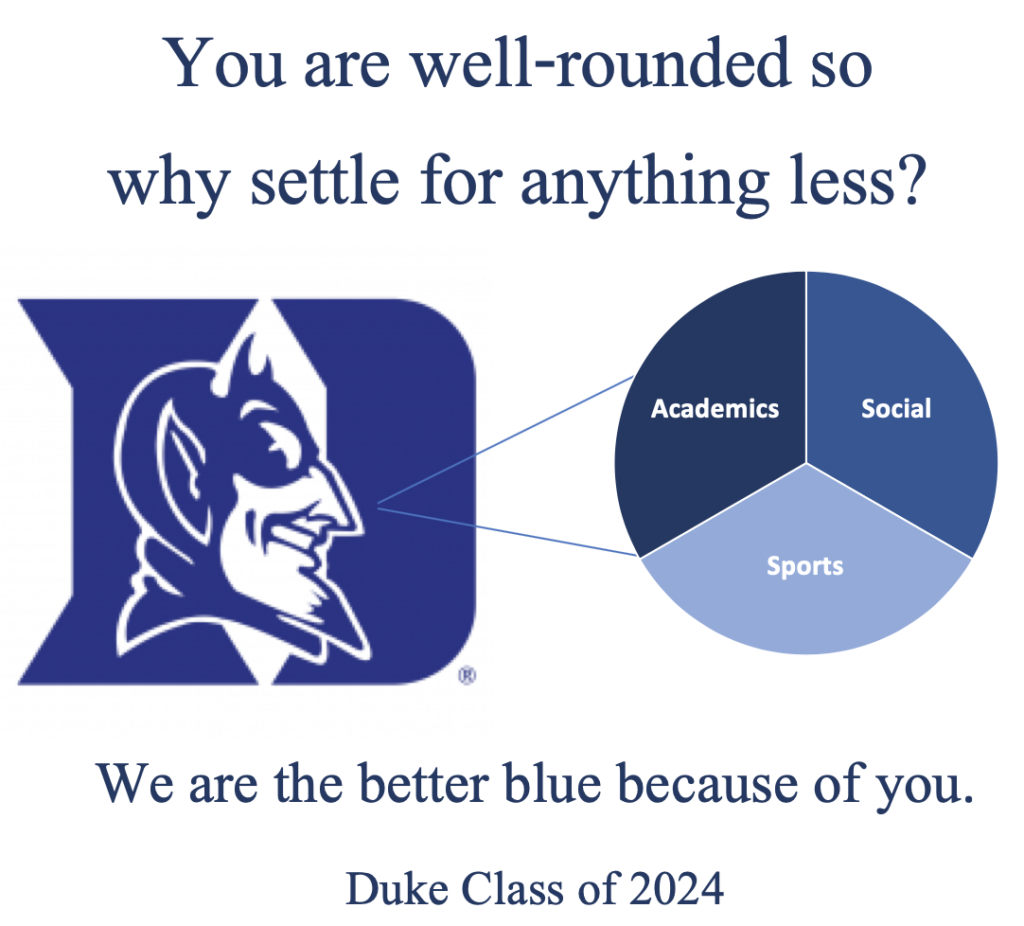 ---
For MEJO 153: Writing and Reporting, one assignment we were tasked with was to attend David Zucchino's speech he gave at UNC and write a story based on what he discussed.
David-Zucchino-Speech-Story

FALL 2019
For ENGL 385: Literature in Law, we were tasked with creating a multimedia presentation and poster that connected a court case with a play that we had read. We had to research and find both primary and secondary sources to create a claim about how media influences culture.
poster-1